PRE-EMPLOYMENT SCREENING
(PES)


Investing in right candidates is the foundation of success


Why PES?
Recruitment has always been a critical business process. Hiring employees based on recommendation or appearance is a risky task in today's corporate world.
Responsible employers exercise PES when hiring new employees - one poor decision can result in financial losses or worse.
Verifying an applicant's claim on their credential will prevent many problems such as fraud. Other benefits of conducting PES are as follows:
Prevents resume/ CV fraud by verifying the applicant's previous qualification and employment history.
Helps to decrease turnover.
Exercising PES in the hiring process will help avoid lawsuits resulting from the employee's actions.
If you would like to know more about our PES services, please contact us by completing our
Web Contact Form
.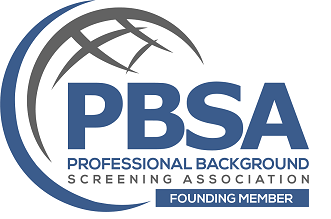 We are the PBSA APAC Founding Member
Founded as a US non-profit trade association in 2003, the Professional Background Screening Association (PBSA) was established to represent the interest of companies offering employment and tenant background screening services. The PBSA Asia Pacific (APAC) Chapter began forming in 2009 and
we are one of Founding Member in region.
What is PES?
Pre-Employment Screening also known as Background Screening or Background Check is the service of the 21st century that allows employers to verify an employee's past with the candidate's consent. Acquiring the right candidate with positive traits such as transparency, truthfulness, trustworthiness, reliability, excellent attitude and aptitude has become the main priority of employers.

JR & Associates undertake Pre-Employment Screening in Malaysia and our capability has expanded throughout the years since we first started in 2005 as the earliest provider of Pre-Employment Screening to the corporate world in Malaysia and the Southeast Asia region.

As the Founding Member of the Professional Background Screening Association (PBSA APAC) formerly known as the National Association of Professional Background Screeners (NAPBS), we assist our clients to identify the right candidates through various checks that determine the authenticity of educational background, skills, professional experiences, and performances. We also check an individual's criminality background, civil litigation, credit status, bankruptcy record, and business interests and provide media sweeps in many countries.

JR & Associates ensure that the clients' candidates are excellent investments. We pave the way towards a safe and healthy working environment for our clients and their employees and ensure that our clients are protected from lawsuits, thefts, frauds, embezzlement, high turnovers, bad publicity, violence, and sexual harassment, and loss of business.